How It Works
Sell My Home
Sell My House Menu G function myFunction() { var x = document.getElementById("myDIV"); if (x.style.display === "block") { x.style.display = "none"; } else { x.style.display = "block"; } }
Selling Your St. Louis Home: How It Works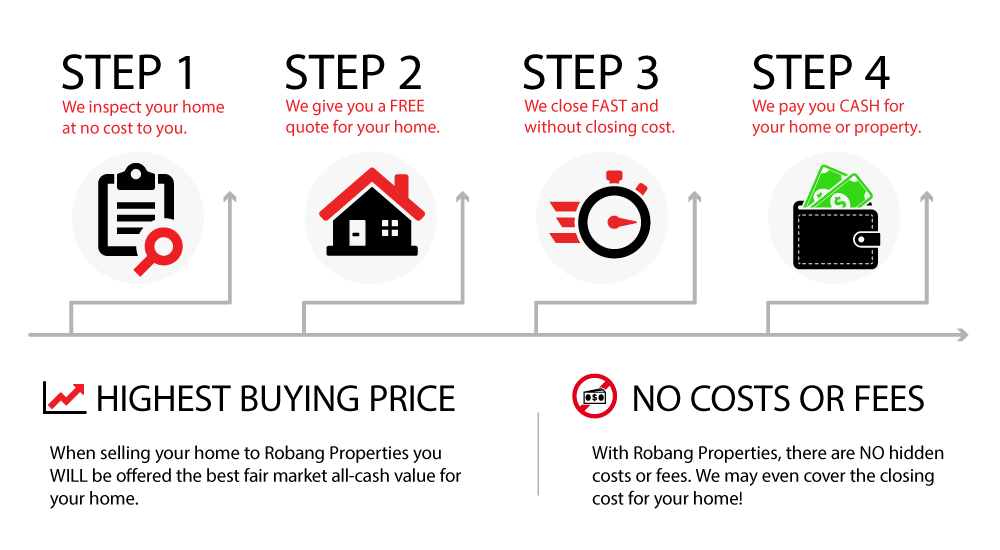 Sell Your St Louis Home
Are you looking to "sell your house" in St Louis, MO? Robang Properties is a local family-run contracting company that has been purchasing and improving homes and properties in the St Louis area since 1999. Buying and repairing houses and properties gives us the ability to provide homeowners with the best fair market all-cash offer. We take on big and small property projects including estates, commercial property, undeveloped land, and condos. We strive to make the home selling process smooth for our clients by offering free consultations, quick closings, no inspection hassles, cash offers, and at no cost to you!
We Give You Cash for Your House
Robang Properties is made up of experienced cash home buyers and we want to buy your St Louis home or property. Our no obligation consultation enables us to send a home buying expert out to inspect your home or property and give you the best fair market offer. If you decide to accept our offer we will set up a quick closing, usually within 14 days! Not only do we offer a free no obligation consultation, we also pay cash for your home as-is! Because we purchase homes as-is we eliminate the inspection hassles, saving you money and time.
Our Goal: To Purchase Your Home!
If you're looking to sell your house fast or if you're home has been on the market for an expansive amount of time, let us help you. We have over 15 years of experience in buying and repairing homes and properties. Robang Properties' process will make selling your home feel effortless. Contact us today if you want to sell your St Louis home.
Robang Properties is an accredited property buying business. Click below to see our BBB page.

For Full Service Real Estate or Additional Listings, Please Visit Our Sister Company: RobangRealty.com
Why Use Robang Properties?
Sell Your House
Sell Your Home Fast, With No Closing Cost!
Robang Properties, LLC makes selling your home incredibly easy, there is no project too big or too small. Give us a call today at 314-648-3499 or fill out our contact form online to give us some basic information about your home.
To learn more about our services we offer, please visit our About Us page.
For investors: get updates about properties in your area and stay up to date! Click the link below to get started.